Can Be Viewed Horizontally with Smart Phones
INTRODUCING MY NEW
"IT'S CHRISTMAS VIDEO"
video run time: 39 minutes - 22 seconds

Sorry, your browser doesn't support HTML5 video.
Play Or Download FREE
The "It's Christmas" MP4 Video
Play Or Download FREE
The "It's Christmas" MP3 CD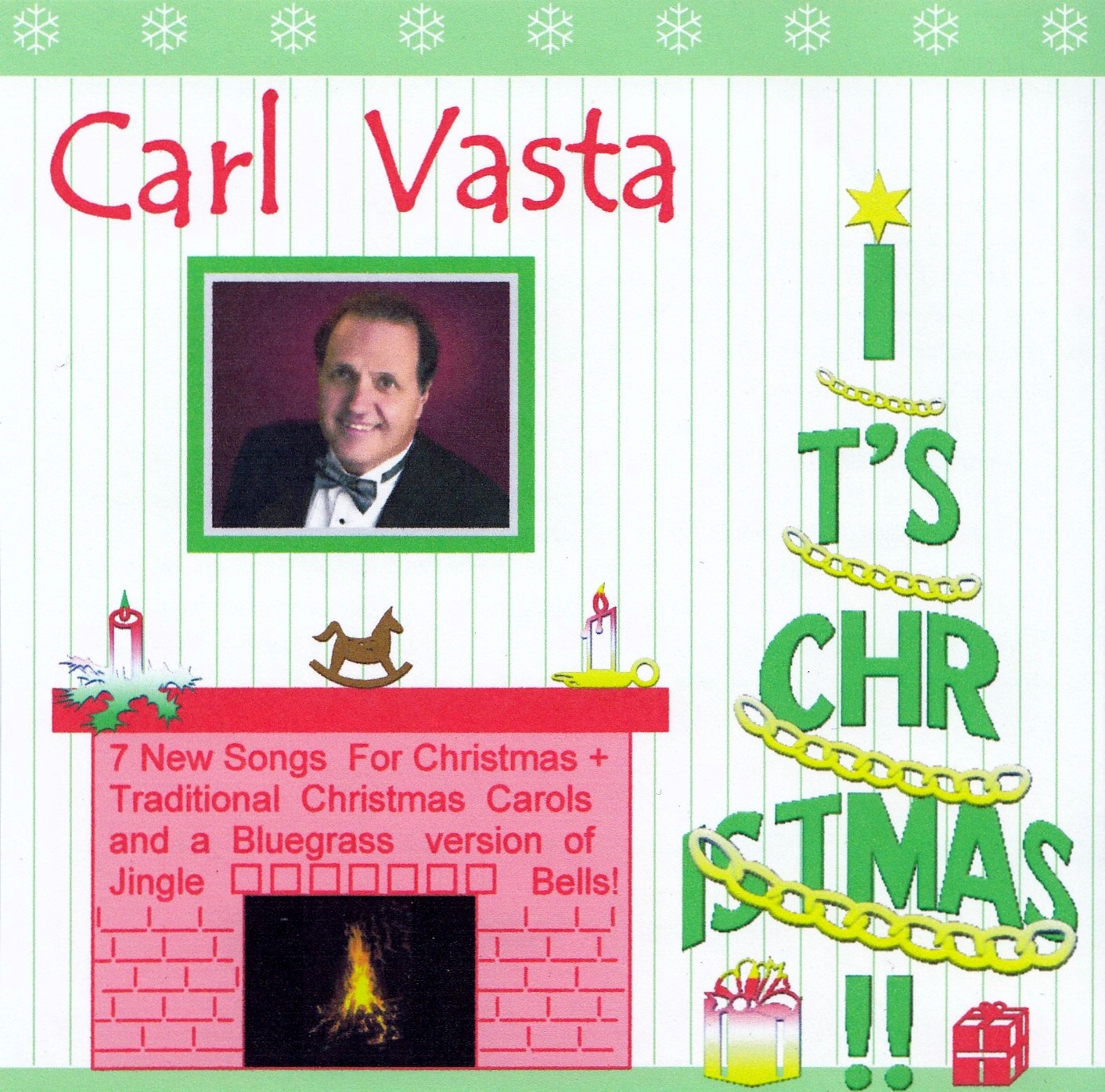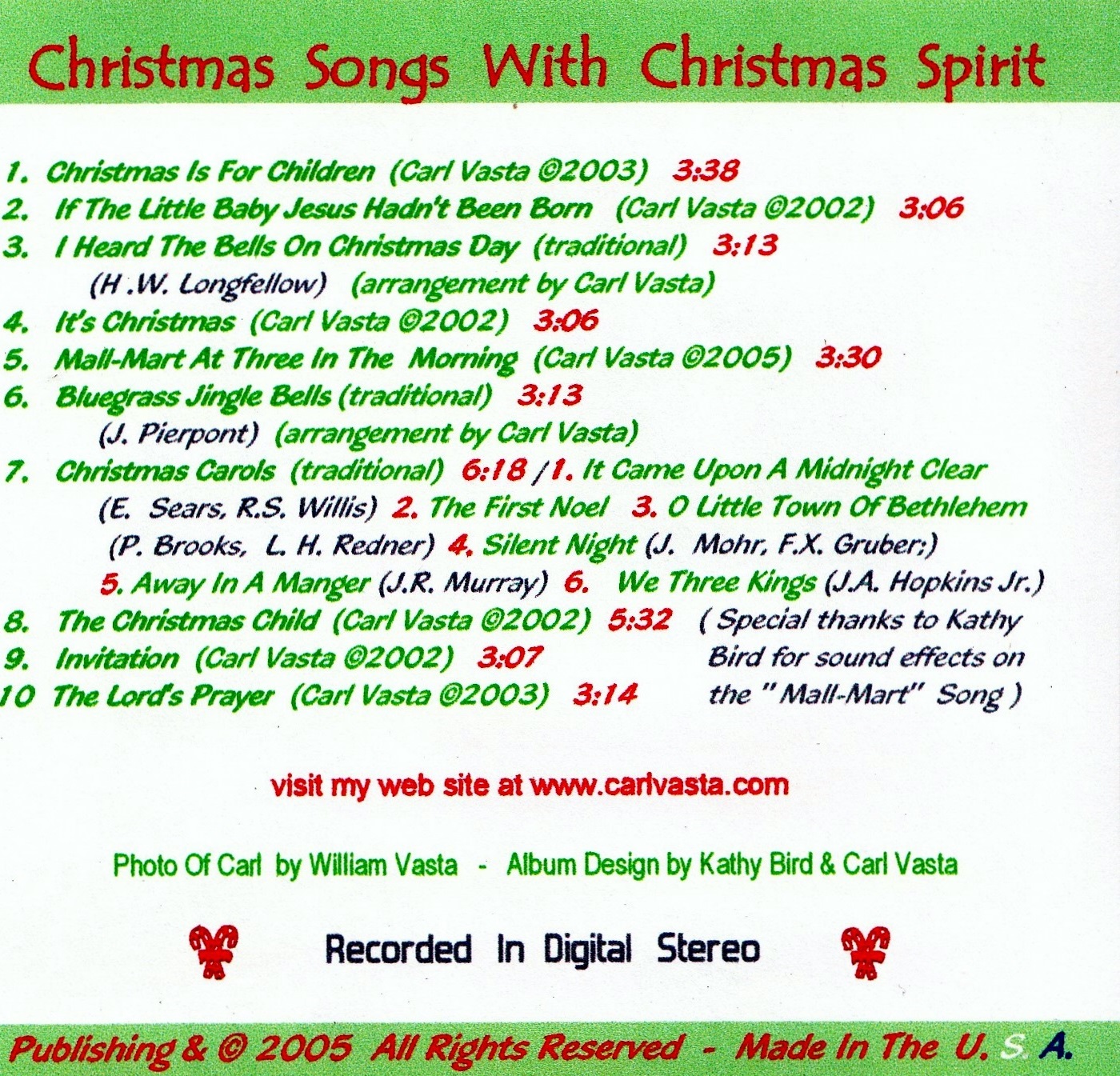 A Review Of "It's Christmas"
by Richard Banks
from Christmasreviews.com
There were 9 songs on this 2004 version
of "It's Christmas", "Mall Mart At Three
In The Morning" was added in 2005
Listened to on its own terms, Carl Vasta's It's Christmas is one of the most attractive and intriguing CDs you will hear this year.
On one level an old-fashioned children's record, Vasta's easy listening stylings can also be heard as romantic pop crooning.
As a recording for children, it is Disneyesque.
Vasta's arrangements are eerily similar to the Disney film scores of the 1950s and '60s, full of earnest sentiment and nostalgia. Vasta's voice effects that soft vibrato we all remember from Pinnocchio's When You Wish Upon a Star.
As an authentic reference to easy listening's heyday, It's Christmas is an important contemporary recording.
But better than that It's Christmas is a lot of fun. The CD covers a few Christmas standards (and novel arrangements of these, to be sure), but the greater part of It's Christmas is Vasta's opus. Six songs are new!
These include Christmas Is for Children, If the Little Baby Jesus Hadn't Been Born, It's Christmas, The Christmas Child, Invitation, and The Lord's Prayer.
Of the six, my favorite is Christmas Is for Children, which begins the CD. Sung with moody poignancy using, apparently, an old analog microphone, the song achieves the beautiful, cavernous sound of mid-20th century recording, something I just haven't heard lately.
But my other favorite is the title track, sung almost as a bubblegum pop song (or an homage to one). But homages these are not. Vasta is no poser and no imposter. His innate understanding of his genre and his inimitable style give his recordings an authentic quality that can't be duplicated. The tune is nicely constructed, interestingly arranged, lyrically strong, and features a twisting, turning melody with hooks galore.
If you have a fondness for easy listening crooners, Carl Vasta's "It's Christmas" is for you.
Richard Banks
************************************
About The "It's Christmas" CD
I never thought I would make a Christmas CD even though I've made my living with music for over 55 years. God has helped me raise my four boys after my wife died of cancer and for a few years now, I've had time to write and record the music that's been in me for a while.
For this CD, I wrote seven Christmas songs, (words & music), and I made special arrangements for three traditional Christmas songs. Each song was done with a different style of music: from ballad to gospel, bluegrass to bubble gum pop, dramatic to simple carols, comedic to shades of "drummer boy", and finished off with a new slow rock version of The Lord's Prayer.

I played all the instruments with my synthesizer and sang all the vocals. On each video, you can see a picture my son William took of my hands playing the keyboard I used to make this CD.
************************************
For a quick listen,
use the players under the song titles or
click the link to see the video and download
FREE Videos, MP3s, PDF Sheet Music, MIDI,
and Lyric pages, by right clicking on the links.
There are videos on the song pages, but not
on all the sheet music pages.

( HAVE FUN AND ENJOY! )
************************************
I Heard The Bells On Christmas Day
This song was written by the famous poet Henry Wadsworth Longfellow (1807-1882), after coming to the conclusion that there was no "Peace On Earth", but that right and good would eventually prevail and that wrong doing and evil would fail.
He penned "The Christmas Bells" in 1864 before the end of the Civil War. Five stanzas of the seven were set to music in 1872 by John Baptiste Calkin (1827-1905), and the song was named "I Heard The Bells On Christmas Day."
Bluegrass Jingle Bells
The most popular download has been my fun version of Jingle Bells. It has been used as background music by many people for their You Tube videos and other websites.
In 2004, this was the first mp3 of "Bluegrass Jingle Bells" on the internet.
Christmas Carols
This is a medley of six popular 'Christmas Carols', describing the events at the birth of Jesus. 1. It Came Upon A Midnight Clear 2. The First Noel 3. O Little Town Of Bethlehem 4. Silent Night 5. Away In A Manger 6. We Three Kings
If The Little Baby Jesus
Hadn't Been Born
[ Video, MP3s & Lyric Page ]
[ PDF Sheet, MP3s & Midi ]
Among my favorites is this song I wrote after seeing a man, all dressed up in a pin-striped suit, a stylish hat and tie, standing on a street corner, waving a bible and shouting to the people in the cars passing by.
Invitation
( Hanukkah - Christmas Song )
[ Video, MP3s & Lyric Page ]
[ PDF Sheet, MP3s & Midi ]
A Jewish song and a Christian song together.
This song describes how people of the Jewish faith are waiting along with the Christians for the return of the Messiah.
The Christmas Child
[ Video, MP3s & Lyric Page ]
[ PDF Sheet, MP3s & Midi ]
This song is about the best present anyone can receive for Christmas.
Christmas Is For Children
[ Video, MP3s & Lyric Page ]
[ PDF Sheet, MP3s & Midi ]
Here a song that is dedicated to my beloved wife Mary and our children.
The Lord's Prayer
[ Video, MP3s & ]
[ PDF Sheet-Video-MP3s-Midi ]
This is another version of the Lord's Prayer (Jesus' prayer to the Father) and my daily prayer!
Two years ago I put the sheet music on YouTube with a video and to date 10-07-2023, it has had 26,000 views. The Midi is done as an instrumental with a nylon string guitar and flute, in a meditative style..
This song has had thousands of views and downloads from my own website for as many years as I've had a website and I am grateful to God for helping me bring this version to life.
The inspiration and the author of all the music we compose is the LORD GOD... He just allows us put our name on it Thank You Lord Jesus!...crv
It's Christmas
[ Video, MP3s & Lyric Page ]
[ PDF Sheet, MP3s & Midi ]
"It's Christmas", is the main title song from my Christmas CD and is about keeping Christmas in your heart all year. There are 10 songs from the CD - 7 original songs and 3 traditional songs. All are arranged and performed by Carl Vasta.
Mall*Mart At Three In The Morning
[ Video, MP3s & Lyric Page ]
[ PDF Sheet, MP3s & Midi ]
One Holiday Season, three weeks before Christmas, Wal-Mart stores decided to remain open 24 hours a day till Christmas.
I couldn't resist and so after finishing my late night shift, I decided to drop in and see who would be shopping in Wal-mart at two or three o'clock in the morning.
I was amazed to find a couple of dozen people Christmas shopping. I even saw one shopper with her small children sleeping in the cart with some presents! I wrote this song for those nocturnal shoppers.
************************************
Christmas Links Below
For More Christmas Fun
Feels Like Christmas mainly exists to offer you high-quality Christmas music... for free*! Plus, they have scoured the web looking for some unique gift-giving ideas, sprinkled links and banners throughout the site, and have one page that's dedicated exclusively to gift-giving ideas.
The Music Of Carl Vasta
Site Map
The Music Of Carl Vasta
Copyright 2004 - 2020, All rights reserved