Can Be Viewed Horizontally with Smart Phones
About
Carl Vasta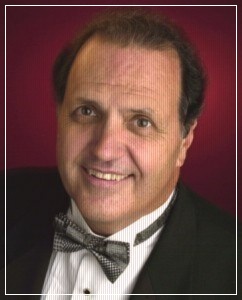 Carl in 2008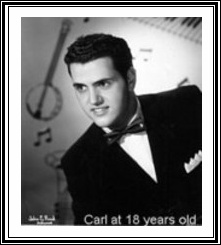 Carl in 1961
******************************************
This Is A Picture Of My Dad
Performing In A Night Club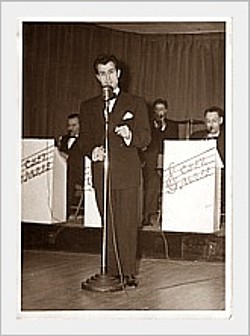 I was born in 1943 into a show business family. My dad (stage name: Carlos Vasta) was in the Army Air Force, in special forces putting on shows (Winged Victory) for the troops. He had a beautiful full operatic voice and worked professionally for twenty five years in Canada and on the East coast.
He was the Master of Ceremonies, also known as an MC, for many variety shows in dinner showrooms that served 1500 people at a time. They did two shows a night and always had a 10 to 15 piece band backing the acts. He had a beautiful baritone voice and could do a 45 minute show by himself and wow the crowd.
In 1951, my dad had a television show originating out of Detroit Michigan on WXYZ at 6:00pm called Songs For Your Supper.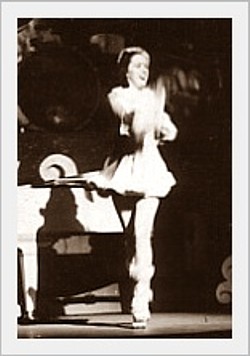 My mother (stage name: Betty Hathaway) performed in variety shows doing dance routines and always brought the house down tap dancing on roller skates.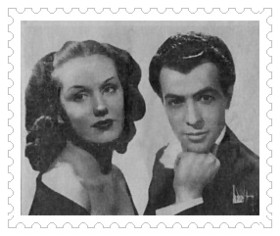 My mom and dad worked with many acts who would become big names such as Gene Krupa, Sammy Davis Jr., Danny Thomas, Dean Martin & Jerry Lewis, Zero Mostel, and many more. There were always alot of stories to go along with the wall of pictures signed by different acts. Both my mom & dad won the Live Like A Millionaire show originating in New York City. My dad won the radio show and my mom won the TV show. They both won the interest on a million dollars. I'm not sure how much that was, but in 1953, they decided to move to California and bought a house in La Crescenta.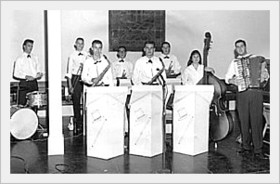 When I was 16 years old, I started a 13 piece dance band with friends I knew at school. We played at a couple of parties but it was hard to book a band that size and make it worth the effort. I tried with an eight piece band (pictured) for a while but decided the best working group would be four pieces.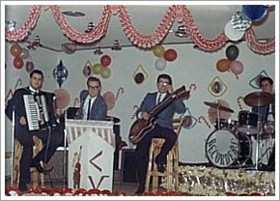 By 18 years old, I formed a quartet known as The Recorders. My brother Don played drums and a friend, Ron Kehoe, who had just graduated from USC played sax and clarinet. Louis Revay was a machinist who invented his own double neck bass and guitar. I played electric accordian, piano and did all the vocals.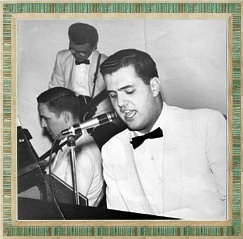 At 19, I started playing piano bar 2 nights a week where my band was working week-ends at a restaurant in Los Angeles. (The Nik-A-Bob Restaurant)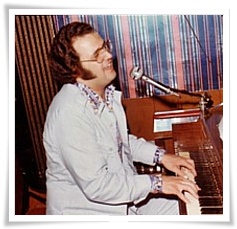 The late 1960's and 70's brought different ways to dress and different hair styles. By this time, I was married to a wonderful woman named Mary who gave birth to our four children. I was performing mainly in clubs and restaurants six nights a week. (La brea Inn - Hollywood, Fireside Inn - Encino)
My wife and I started toying with the idea of putting a duo together. (She played bass and I played keyboards) We would only have to work three or four nights a week and that would leave more time to spend with the kids and each other!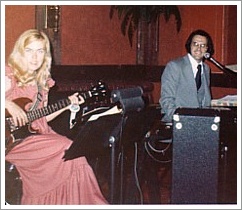 "Carl & Mary" started working at The Golden Helmet at the La Canada Country Club three nights a week and was there for a year. During the next several years, we worked many restaurants and a couple of hotels. (The New Concord Hotel in Hollywood and the "Pier 9" in the Laguna Beach Hotel in Laguna Beach.) We worked at the Luguna Beach Hotel for almost a year then cancer claimed Mary's life.
Mary's passing created a huge hole in my life and the lives of our children, but I knew what God and Mary expected me to do. I took time off to reorganize our lives so that we could take care of each other. After Laguna Beach Hotel, we moved to Riverside and I mostly worked week-ends with a group out of Orange County called "Swing Inc." which played mostly private parties and country clubs in Los Angeles and Orange County.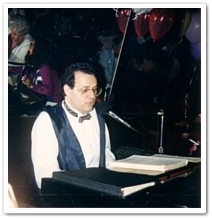 After a while, I started performing at The Coachman, a local restaurant in Riverside playing piano bar four or five nights a week. I worked there about 2 years, then worked other restaurants in the Moreno Valley - Riverside area. (Frangipani's, bratt's, and Toad In The Hole)
Mary would be proud of her children as I am. They put themselves through college, got their degrees and are working at their chosen professions. All are married and I am happy to say I have a beautiful grand-daughter who dances and plays piano wonderfully and two sharp grandsons.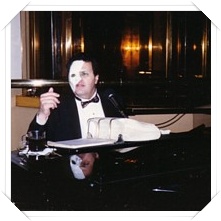 I have been performing as a "one man band" for the last 30 years in the Riverside - Moreno Valley / Palm Springs, California area. This picture was taken of me at the Hyatt Regency Hotel, Palm Springs in 1991 by Yvonne Leroux, the grand-daughter of the famous author M. Gaston Leroux. He wrote "The Phantom Of The Opera." among many other mystery novels.
She gave me a book titled, "The Complete Phantom Of The Opera" by George Perry, with this picture taped inside the title page. She wrote:
"Many thanks for sharing your talent
and making such beautiful
'Music Of The Night'
-- Affectionately Yvonne Leroux."
The Music Of Carl Vasta
Copyright 2004 - 2019, All rights reserved
email me at: carlvasta@outlook.com
( not receiving email from the carlvasta.com site! )