[ BACK TO BIBLE SEEDS HOME PAGE ]
video run time: 27 minutes - 32 seconds
Sorry, your browser doesn't support HTML5 video.
- The Simplicity Of Salvation -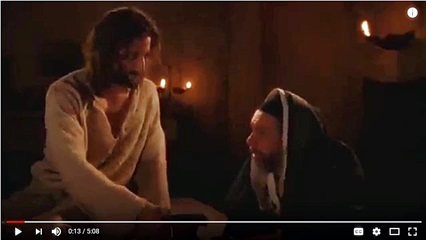 SIMPLICITY OF SALVATION at YouTube:
YOU TUBE LINK: https://www.youtube.com/playlist?list=PLDREeol8GEhXU35r7dY8KPC0HfuOcaSvo
( To hear the audio version read by Carl Vasta )
use the MP3 player below
mp3...THE SIMPLICITY OF SALVATION...mp3
( To download the MP3s )
right click on the link or player above and
"save target as" to your computer
When Jesus was crucified.....

Two criminals were also crucified with Jesus, one on each side of him. One taunts Jesus saying, "Aren't you the Messiah? Save yourself and us!"

The other one speaks to the one taunting Jesus and says, "Don't you fear God? We deserve what we are getting because of what we did, but he has done no wrong."

And he says to Jesus, "Remember me when you come into your kingdom." Jesus tells him,
"I promise you that today you will be in Paradise with me."
Book Of Luke - Chapter 23:Verses 39-43
* * * * * * * *
Jesus told the story of a man who had two sons. The younger son asked his father to give him his share of the property he would inherit, and the father divided a portion of the property between his two sons. The younger son sold his portion and went to another country where he wasted his money on wild parties and careless living. Soon all the money was gone and he was left with nothing!
There was a famine in the land where he was living so he went and hired himself out to a citizen of that country who sent him into his fields to feed the pigs. He was getting hungry, but no one gave him anything and he was thinking about eating the corn husk and bean pods the pigs were eating, then he came to his senses and said,
"All my father's hired servants have more than they can eat and here I am about to starve! I will go to my father and say, 'Father, I have sinned against God and against you. I am no longer fit to be called your son, make me one of your hired servants.'"
He started the journey back to his father's house. He was still a distance from home when his father saw him. Filled with pity, he ran and threw his arms around his son and began to kiss him. The son said, "Father, I have sinned against God and against you. I am no longer fit to be called your son."

The father told his servants to bring the best robe and put it on him, and a ring for his finger and shoes for his feet. Then he told his servants to prepare a feast with the prize calf saying, "For this son of mine was dead, but now he is alive; he was lost, but now he has been found." So the celebration began!
Now the older son was coming in from the fields and heard the music and dancing. He asked one of the servants what was going on. The servant replied, "Your brother has come back home and your father has killed the prize calf, because he got him back safe and sound."

The older brother was angry and would not go in. So the father came out and begged him to come in, but he said to his father, "All these years, I have worked for you like a slave and I have never disobeyed your orders. You have not even given me a goat, so that I could have a feast with my friends! But my younger brother wastes his inheritance and comes back home and you kill the prize calf for him?"
"My son," the father said, "You are always here with me, and everything I have is yours. But we had to celebrate and be happy, because your brother was dead, but now he is alive; he was lost, but now he has been found."
New Testament, Book Of Luke, Chapter 15, Verses 11-32
* * * * * * * *
Some men brought a man who was paralyzed to Jesus, but couldn't get near the house because of the crowd of people. They brought him up to the roof of that house and lowered him down on his mat to Jesus.
When Jesus saw their faith, he said to the paralyzed man, ...

"My son, your sins are forgiven."

The scripture says that though the scribes and Pharisees kept it to themselves, Jesus was aware that they were asking themselves,

'Why does this man talk this way, he is speaking as if he were God.' ( He is committing blasphemy )

'God is the only one who can forgive sins.'

Jesus said to them, "Why are you thinking these things? Which is easier to say to this paralyzed man, 'Your sins are forgiven', or to say 'Get up, pick up your mat and walk' "?

"So that you may know that the Son of Man has authority on Earth to forgive sins," He said to the man who was paralyzed, "I tell you, get up, pick up your mat and go home."

While they all watched, the man got up, picked up his mat and went outside in sight of everyone. The people were completely amazed and praised God, saying, "We have never seen anything like this !"
( New Testament, Book Of Mark, Chapter 2, Verses 1-12 )
also found in the Book Of Matthew, Chapter 9, Verses 2-8
and Luke, Chapter 5, Verses 18-26
* * * * * * * *
Lazarus had been buried four days when Jesus had arrived and many Judeans had come to comfort Martha and Mary. When Martha heard that Jesus was there, she went out to meet him while Mary remained in the house. Martha said to Jesus, "If you had been here, Lord, my brother would not have died, but I know that even now God will give you what ever you ask him for."
"Your brother will rise to life," Jesus told her. "I know," she replied, "that he will rise to life on the last day." Jesus said to her,
"I am the resurrection and the life.

Whoever believes in me will live
even though he dies;

and whoever lives and believes in me
will never die.
Do you believe this?"

"Yes, Lord!" she answered. I do believe that you are the Messiah, the Son of God, who was to come into the world."
Then Mary came from the house and said the same words as Martha, 'If you had been here, my brother would not have died'.
Jesus asked where Lazarus was buried and had them remove the large stone covering the cave. Martha told Jesus that there would be a bad odor because Lazarus had been buried four days ago.

Jesus said to her, "Didn't I tell you that you would see God's glory if you believed?"

Then Jesus looked up and said, "I thank you, Father, that you listen to me. I know that you always listen to me, but I say this for the sake of the people here, so that they will believe that you sent me."

After he had said this, he called out in a loud voice, "Lazarus come out!"

He came out, his hands and feet wrapped with strips of linen, and a cloth around his face.

Jesus said to them,"Take off the grave clothes and let him go."
New Testament, Book Of John, Chapter 11, Verses 17 - 44
* * * * * * * *
As Jesus was walking to Jerusalem, along the border between Samaria and Galilee, he was met by ten men suffering from a dreaded skin disease known as leprosy. They called out to Jesus, "Master! Please heal us!"
Jesus saw them and told them, "Go and let the priest examine you."
On their way to the priest, they were healed and made clean. When one man saw that he was healed, he came back, praising God in a loud voice and threw himself on the ground at Jesus' feet and thanked him.
The man was a foreigner from Samaria and Jesus said, "There were ten men who were healed; where are the other nine? Why is this foreigner the only one who came back to give thanks to God?"

And Jesus said to the man, "Get up and go; your faith has made you well."
( New Testament, Book Of Luke, Chapter 17, Verses 11-19 )
* * * * * * * *
God led Moses and the Israelites to the Promise Land and told them to take it, but the Israelites refused to do it and wanted to go back to Egypt.

God pardoned the people, but He told Moses to lead these unbelieving people back into the desert until the new generation of people were ready to take the promised land that their ancestors refused to take!

They wandered forty years and encountered much resistance from the nations surrounding them. They did battle and God protected them, but they constantly complained against God and Moses.
Then one day, the Lord sent poisonous snakes among the people and many Israelites were bitten and died. The people came to Moses and said, "We sinned when we spoke against the Lord and against you. Forgive us and pray to the Lord to take these snakes away." So Moses prayed for the people.

Then the Lord told Moses to make a metal snake and put it on a pole, so that anyone who was bitten could look at it and be healed. So Moses made a bronze snake and put it on a pole and anyone who had been bitten would look at the bronze snake and be healed.
AUTHOR'S NOTE: Even though the Israelites constantly saw the miracles that God performed, their hearts remained unchanged.

God referred to them as "unbelieving" and that is what they were, yet God provided them "an escape from death" by looking at a metal snake on a pole!

This may have looked like nonsense to those who did not get bitten, but those who were dying from the snake bite experienced God's power by believing.
( Old Testament, Book Of Numbers, Chapter 21, Verses 4-9 )
also found in Exodus, Chapter 19 through the books
of Leviticus, Numbers and Deuteromony
Jesus Said This To Nicodemus
after he told him he must be born again to see the Kingdom of God,


"As Moses lifted up the bronze snake
on a pole in the desert, in the same way
the Son of Man must be lifted up, so that
everyone who believes in him
may not die but have eternal life.

For God loved the world so much
that he gave his only Son,
so that everyone who believes in him
may not die but have eternal life."
( The Book Of John, Chapter 3, Verses 14-16 )
COMING TO THE POINT
Coming To The Point Of This Page: It is important to understand that the salvation and forgiveness that God offers through Jesus is simple.
Sin cannot stand before the glory of God; it withers and dies. Our lives, our thoughts, our deeds are filled with sin, and because of that, we cannot have a meaningful relationship with God, our Creator.

Jesus tells his diciples "I am the way, the truth and the life; no one goes to the Father except by me. Now that you have known me," he said to them, "you will know my Father also, and from now on you do know him and you have seen him."

Philip said to him, "Lord, show us the Father; that is all we need."

Jesus answered, "For a long time I have been with you all; yet you do not know me, Philip?

Who ever has seen me has seen the Father. Why, then, do you say 'Show us the Father?'

Do you not believe , Philip, that I am in the Father and the Father is in me? The words that I have spoken to you," Jesus said to his diciples, "do not come from me. The Father, who remains in me, does his own work."
( Found in the Book of John, Chapter 14: Verses 6-10 )
But 2000 years ago, Jesus, who was without sin took the punishment we deserve and the death we deserve as sinners upon himself and God accepted that.
So now, If You BELIEVE that

GOD the Father sent his Son JESUS,

to take away YOUR sins by dying on a cross

and rising from death three days later

YOU are cloaked or covered by Jesus'
sacrifice so YOU can have a relationship with GOD, the Father.
YOU COME TO JESUS
AS YOU ARE
You may be a person who is seeking relief from an addiction to drugs, alcohol or both.

You may be seeking pleasure from the fantasy of pornography, but it only leaves you empty and addicted. It can ruin the possibility of your having a real love relationship in your life or in your marriage.

You may be trying to cope with the death of a loved one or are depressed from personal relationships or hardships.

You might be going through a divorce as a single person or trying to finish raising your children as a single parent.

But you know you have had enough of your life the way it is. You've tried it your way and it's not working! You may feel dumb because you were lead or you put yourself into the circumstances that brought you here, . . . .
but the bible says that the beginning of wisdom is your knowing there is a God, who is your Creator and who loves and cares about you.
Psalms 111:10 / Proverbs 1:7 / Proverbs 4:7 / Proverbs 9:10
YOU are the WHO in the

'WHOEVER believes that God the Father sent his Son Jesus to take away all the sins of those who would believe in him.'
Do YOU believe GOD? Do YOU believe JESUS? WHOEVER means YOU !

When YOU know what the what right thing to do is, and YOU don't do it, YOU sin against GOD and yourself.

That's when YOU come to Jesus and ask him to forgive your sins and ask him to help you to NOT SIN ANYMORE!
And immediately, God forgives all your sins and sends His Holy Spirit who will remain with you and help you change your life.

So now you know that your salvation through the LORD Jesus Christ is simple.
Another thing you may discover as you read or hear each one of these bible readings. YOU are someone in these stories.
YOU are the criminal hanging next to Jesus who is sorry for his sins and asks Jesus to remember him when he comes into his kingdom.
AUTHOR'S NOTE:This is one of the best examples of Salvation being Simple. The criminal admitted his own sins and even said they were getting what they deserved and yet acknowledged that Jesus had done nothing to deserve punishment he was receiving.

This was the criminal's act of repentance, ( turning back to God )and asking Jesus to care for him, which Jesus promised he would do saying, "I promise you that today you will be in Paradise with me."
Notice that the criminal was never baptized in water, never spoke in tongues, never heard the claim of Jesus' resurrection from the Apostles and yet believed that he would be in paradise that day with Jesus!


YOU are the son or daughter who has wasted their money and their life on wild parties and careless living. You've lost everything and find yourself broken, out of money, out of friends and ready to give up this wasteful life.

YOU can ask Jesus for help, who will go to the Father on your behalf. and the Father will forgive your sins saying,

"For this child of mine was dead, but now they are alive; they were lost, but now they have been found", and He will send the Holy Spirit to help you change your life for the better.


YOU are the paralyzed person being lowered from the roof of a house to Jesus to be healed. When Jesus sees your faith, he will say to you, "My son, my daughter, your sins are forgiven."


YOU are Martha, who says to Jesus: "Lord, why did you let my loved one die; If you had been here they would not have died!" And Jesus might say to you, "I have been here for you and your loved one all of your life. Whoever believes in me will live even though they die; and whoever lives and believes in me will never die."


YOU are a person who never thought much about God or church, but suddenly a fatal disease comes upon you, and in your desperation, you plead to God to heal you!

YOU become the foreigner who was healed from leprosy along with nine other Jews and YOU come back praising God in a loud voice and throwing yourself on the ground at Jesus' feet and thanking him. And Jesus says to you, "Rejoice; your faith has made you well."

YOU are in the crowd that ate the bread and fish when Jesus fed 5000 men plus the women and children on the other side of the lake and now a day later in Capernaum, you hear Jesus say,
Do not work for food that spoils; instead, work for food that lasts for eternal life. This is the food which the Son of Man will give you, because God, the Father, has put his mark of approval on him."

So they asked Jesus what God would have them do and Jesus answered "What God wants you to do is to believe in the one he sent."
They asked Jesus to perform a miracle so they might believe in him, saying, "Our ancestors ate manna in the desert, just as the scripture says, 'He gave them the bread from heaven to eat.'

Jesus tells them that what Moses gave them was not the bread from heaven. Jesus added, "For the bread that God gives is he who comes down from heaven and gives life to the world."

"Sir," they asked him, "give us this bread always."

"I AM THE BREAD OF LIFE," Jesus told them. He who comes to me will never be hungry; he who believes in me will never be thirsty."
New Testament, Book Of John, Chapter 6, Verses 27-35
And Jesus finishes up by saying I am telling you the truth: If you do not eat the flesh of the Son of Man and drink his blood, you will not have life in yourselves.
New Testament, Book Of John, Chapter 6, Verse 53
And would YOU say, "This teaching is too hard. Who can listen to it?" like many of his followers did before they left him!
If you were Jewish, you would be confused by Jesus' words. John, started his gospel by introducing Jesus as the 'WORD OF GOD' ( Book of John, Chapter 1, Verses 1-18 )

Many of his diciples may have heard about Jesus being tested by Satan in the desert, but they didn't grasp what Jesus had said!

In Matthew 4:4, The Devil came to Jesus in the desert after 40 nights without food and said, "If you are God's Son, order these stones to turn into bread." Jesus answered,
"The scripture says, 'Man cannot live on bread alone, but needs every WORD that God speaks.'" ( Jesus quoted Deuteronomy 8:3 from the Old Testament )
Within the Holy Trinity, ( Father, Son, and Holy Spirit ) Jesus is identified as the Son Of God, and the WORD Of God.

When he says; 'whoever eats my flesh', he is referring to the scripture above. Bread is for the nourishment of the body, the WORD Of GOD is for the nourishment of the soul.

The bread we eat nourishes the body and passes through it, but the WORD Of GOD, that we take in us, remains dormant until it is given life by the BLOOD.
As BLOOD gives life to the flesh, so BELIEVING that 'God sent his son Jesus to take our sins' is the 'blood of Christ' that we drink.

Our BELIEF gives life to the 'WORD Of GOD' that we take in. And it becomes the living and growing 'WORD Of GOD' which is able to change us from our sinful nature to GOD's nature.
WHAT DO YOU DO NOW
If you've decided to do what is right and give up sinning against God and yourself and begin following Jesus, the first and best thing you can do is "Stay In The WORD"

Read or hear it every day. It will help you to know more about GOD ( The Father, Son and Holy Spirit ) and you can protect yourself against people who call themselves "Christians" ( but are Christians in NAME ONLY and not in the things they do ), or organizations that pass themselves off as "churches of GOD" but are really "CULTS".

Many people would like you to believe that "All Religions Lead To Heaven" Think about it!

EVERYONE CAN'T BE RIGHT . . . because every religion has different Gods, and even different definitions of Jesus.
Jesus said,
"NO ONE COMES TO THE FATHER EXCEPT BY ME"
( Found in the Book of John, Chapter 14: Verse 6 )
The leaders or the people in these organizations may try to impose man-made rules on you before you can come to God... but Jesus has spoken about these things and said to the religious leaders of his day:
"How accurately did Isaiah prophesy about you when he said:"
'These people, says God,
honor me with their words,
but their heart is really far away from me.
It is no use for them to worship me,
because they teach man-made rules
as though they were my laws!'
Matthew, Chapter 15, Verses 7-9
Get a bible and start to read at "The book of John, in the NEW TESTAMENT."

If you don't have a bible, you can read or listen to the overview, "Storyline Of The Bible" that I have right on this website and also the "Paraphrased Quotes From Jesus". If you are following along with a bible, there are Book, Chapter, and Verse references on each page.

Or if you can get online, you can use:
BIBLE GATEWAY ( IT'S FREE )
just enter in the top box:
any book name of the bible,

( John )


the chapter number,

( Chapter 3 )


and the verse number

( Verse 16 )


like this example ( John 3:16 )
click on the Search BibleGateway.com
and you can read or hear it read to you
***************************
Check out Carl's Christmas and Inspirational Songs,
Videos, MP3's, and Sheet Music with Midi Files
They're all FREE at
The Music Of Carl Vasta
Copyright 2004 - 2016, All rights reserved
email me at: carlvasta@outlook.com