Can Be Viewed Horizontally with Smart Phones
[ BACK TO THE PARAPHRASED QUOTES INDEX ]
video run time: 4 minutes - 48 seconds
Sorry, your browser doesn't support HTML5 video.
- The Lost Sheep & The Lost Son -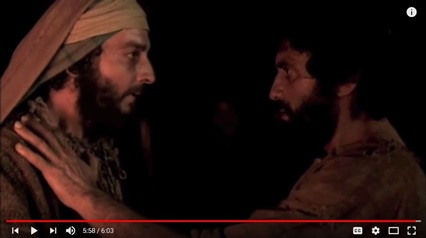 "The Lost Son" from Jesus Of Nazareth
& "My Shepherd The 23rd Psalm"
by Chuck Smith at YouTube:
[ You Tube Link https://www.youtube.com/playlist?list=PLDREeol8GEhWUFFTYzuRnoiwze3WQvE0D ]
[ 24 Paraphrased Quotes & Stories ]
( From Jesus - PDF File - 196kb - 48pages )
Published 2006 & 2007 by carlvasta.com
( To hear the audio version read by Carl Vasta )
use the MP3 player or the link below
mp3...THE LOST SHEEP & THE LOST SON...mp3
( To download the MP3s )
right click on the link above and
"save target as" to your computer
The Lost Sheep
Many tax collectors and other people who were considered the outcasts of society came to listen to Jesus speak. The Pharisees and the teachers of the law who were there grumbled, "This man welcomes outcasts and even eats with them!"

Jesus seeing their attitude asks them, "Which one of you, having a hundred sheep, if he loses one of them, would not leave the ninety nine sheep in the pasture and go look for the one who is lost.

Finding him, he returns and tells his family and friends how happy he is to have found the one who was lost.

In the same way, I tell you, there will be more joy in heaven over one who gives up their life of sin and seeks God's ways than the ninety nine who have been living faithfully in God."
( New Testament, Book Of Luke, Chapter 15, Verses 1-7 )
also found in the Book Of Matthew, Chapter 18, Verses 12-14
The Lost Son
Jesus told the story of a man who had two sons. The younger son asked his father to give him his share of the property he would inherit and the father divided a portion of the property between his two sons. The younger son sold his portion and went to another country where he wasted his money on wild parties and careless living. Soon all the money was gone and he was left with nothing!

There was a famine in the land where he was living so he went and hired himself out to a citizen of that country who sent him into his fields to feed the pigs. He was getting hungry, but no one gave him anything and he was thinking about eating the corn husk and bean pods the pigs were eating, then he came to his senses and said, "All my father's hired servants have more than they can eat and here I am about to starve! I will go to my father and say, 'Father, I have sinned against God and against you. I am no longer fit to be called your son, make me one of your hired servants.'" He started the journey back to his father house.

He was still a distance from home when his father saw him. Filled with pity, he ran and threw his arms around his son and began to kiss him. The son said, "Father, I have sinned against God and against you. I am no longer fit to be called your son." The father told his servants to bring the best robe and put it on him, and a ring for his finger and shoes for his feet. Then he told his servants to prepare a feast with the prize calf saying, "For this son of mine was dead, but now he is alive; he was lost, but now he has been found." So the celebration began!

Now the older son was coming in from the fields and heard the music and dancing. He asked one of the servants what was going on. The servant replied, "Your brother has come back home and your father has killed the prize calf, because he got him back safe and sound." The older brother was angry and would not go in. So the father came out and begged him to come in, but he said to his father, "All these years, I have worked for you like a slave and I have never disobeyed your orders. You have not even given me a goat, so that I could have a feast with my friends! But my younger brother wastes his inheritance and comes back home and you kill the prize calf for him?"

"My son," the father said, "you are always here with me, and everything I have is yours. But we had to celebrate and be happy, because your brother was dead, but now he is alive; he was lost, but now he has been found."
New Testament, Book Of Luke, Chapter 15, Verses 11-32
***************************
Paraphrased Quotes From Jesus
2006
-------
January---------Lazarus And The Rich Man
February-------The Greatest Commandment ("about love")
March-----------The Lost Sheep / The Lost Son
April-------------Meaning Of Easter / 3 Examples From Jesus
May--------------The Worry Of Daily Life
June-------------The Ten Lepers
July--------------The Good Samaritan
August----------How To Give and How To Pray
September-----The Un-believing Towns
October---------Signs Revealing Christ's Return To Earth
November------The Last Supper
December------Why We Should Celebrate Christmas
2007
-------
January--------The Things That Make A Person Unclean
February-------Marriage, Adultery, and Divorce
March-----------Jesus Chooses The Apostles
April-------------The Coming Persecutions For The Believers
May--------------Jesus Feeds 5000 Men ( part 1 )
June-------------Jesus Walks On The Water ( part 2 )
July--------------The Bread Of Life ( part 3 )
August----------The Meaning Of The Cross
September-----Jonah And The Whale
October---------Jesus And The Devil ( Satan )
November------Jesus And The Sabbath ( The Day Of Rest )
December------The Christmas Story ( The Birth Of Jesus )
There are at least 66 books that make up the bible. Sometimes, trying to follow a storyline is difficult because there are books that are good for support and prayer like Wisdom, Job, Psalms, and Proverbs. They take you away from the story.

I have put the Storyline of the Bible into 19 easy to read pages that you can print out!

And now you can listen... FREE! to the Storyline read by Kathy Bird. It's streamed mp3 so you can listen to it easily, even if you have dial up. The story includes references so you can find the topics... in just about any version of the Bible.
If you ever wanted to know what the Bible
is all about, here is your chance!
If you don't have a bible, just use Bible Gateway

( IT'S FREE )
just enter in the top box:
any book name of the bible,

( John )


the chapter number,

( Chapter 3 )


and the verse number

( Verse 16 )


like this example ( John 3:16 )
click on the Search BibleGateway.com
and you can read or hear it read to you
***************************
You May Be Interested In Some
Of These Readings And Prayers
Have you ever wondered if there is a God? One who is responsible for the creation of the universe and all living things.
These are some of the stories of easy salvation. No speaking in tongues, no being baptised with water, just turn away from your sinful life, and believe that GOD The Father sent his son JESUS to die on a cross and take all YOUR SINS away.

'For GOD loved the world so much that he gave his only Son, so that everyone who believes in him may not die but have eternal life.'
( The Book Of John, Chapter 3, Verse 16 )
This is a beautiful prayer at anytime of the day or for those gathered at your table for a meal.
Lord, I have come to you for protection;
never let me be defeated!
Because you are righteous,
help me and rescue me,
Listen to me and save me!
There will be terrible times in the last days.
People will be lovers ....
"My children, when you come to serve
the Lord, prepare yourself for trials."
( A reading from "The Wisdom Of Sirach" )
A friend was brought here from Canada when she was 5 years old and both her parents became citizens but sixty years later, she has to apply for citizenship because the laws have changed since she was young!
How do I start to have a daily meaningful relationship with God? The first requirement is to believe there is a God !
Check out Carl's Christmas and Inspirational Songs,
Videos, MP3's, and Sheet Music with Midi Files
They're all FREE at
The Music Of Carl Vasta
Copyright 2004 - 2019, All rights reserved
email me at: carlvasta@outlook.com
( not receiving email from the carlvasta.com site! )