Can Be Viewed Horizontally with Smart Phones
[ BACK TO THE CHRISTMAS PAGE ]
Traditional Christmas Carols
( Copyright 2004 by Carl Vasta - All Rights Reserved )
A medley of Traditional Christmas Carols
arranged and performed by Carl Vasta
from his CD "It's Christmas"
video run time: 6 minutes - 22 seconds

Sorry, your browser doesn't support HTML5 video.
You can hear this song by clicking on the video
or using the player below.
Selecting a MP3 link
The 80kps link is stereo and best for dial-up. The 128kbs is stereo and usually the default for MP3s. The 320kbs is stereo and closest to the quality of a CD and works best if you have broadband.
To download a
Video, MP3 or Ogg File
Right click on an MP3 or Ogg link above or the players and "save target as" or "audio" or "download" to your computer, tablet or phone.
Christmas Carols

tell a story of our Savior's birth
When the Father sent the Christmas Child here upon the earth
( Carl Vasta - copyright 2003 )
It came upon the midnight clear,
That glorious song of old,
From angels bending near the earth
To touch their harps of gold
"Peace on the earth, goodwill to men,
From heaven's all gracious king"
The world in solemn stillness lay
To hear the angels sing

The first Noel the angel did say
Was to certain poor shepherds
in fields as they lay
In fields where they
lay keeping their sheep
On a cold winter's night
that was so deep
Noel, Noel, Noel, Noel,
Born is the king of Israel

O little town of Bethlehem
How still we see thee lie
Above thy deep and dreamless sleep
The silent stars go by
Yet in thy dark street shineth
The ever lasting light
The hopes and fears of all the years
Are met in thee tonight

Silent night, holy night,
All is calm, all is bright
'Round yon Virgin, Mother and Child
Holy Infant, so tender and mild
Sleep in heavenly peace
Sleep in heavenly peace

Away in a manger,
no crib for His bed,
The little Lord Jesus
laid down His sweet head
The stars in the sky
looked down where He lay,
The little Lord Jesus,
asleep on the hay

We three kings of Orient are
Bearing gifts we traverse afar
Field and fountain, moor and mountain,
Following yonder star
O star of wonder, star of night,
Star with royal beauty bright,
Westward leading, still proceeding
Guide us to thy perfect light.



"It Came Upon A Midnight Clear"
( E. Sears, R.S. Willis )

"The First Noel"

"O Little Town Of Bethlehem"
( P.Brooks, L.H. Redner )

"Silent Night"
( J.Mohr, F.X. Gruber )

"Away In A Manger"
( J.R. Murray )

"We Three Kings"
( J.A. Hopkins Jr. )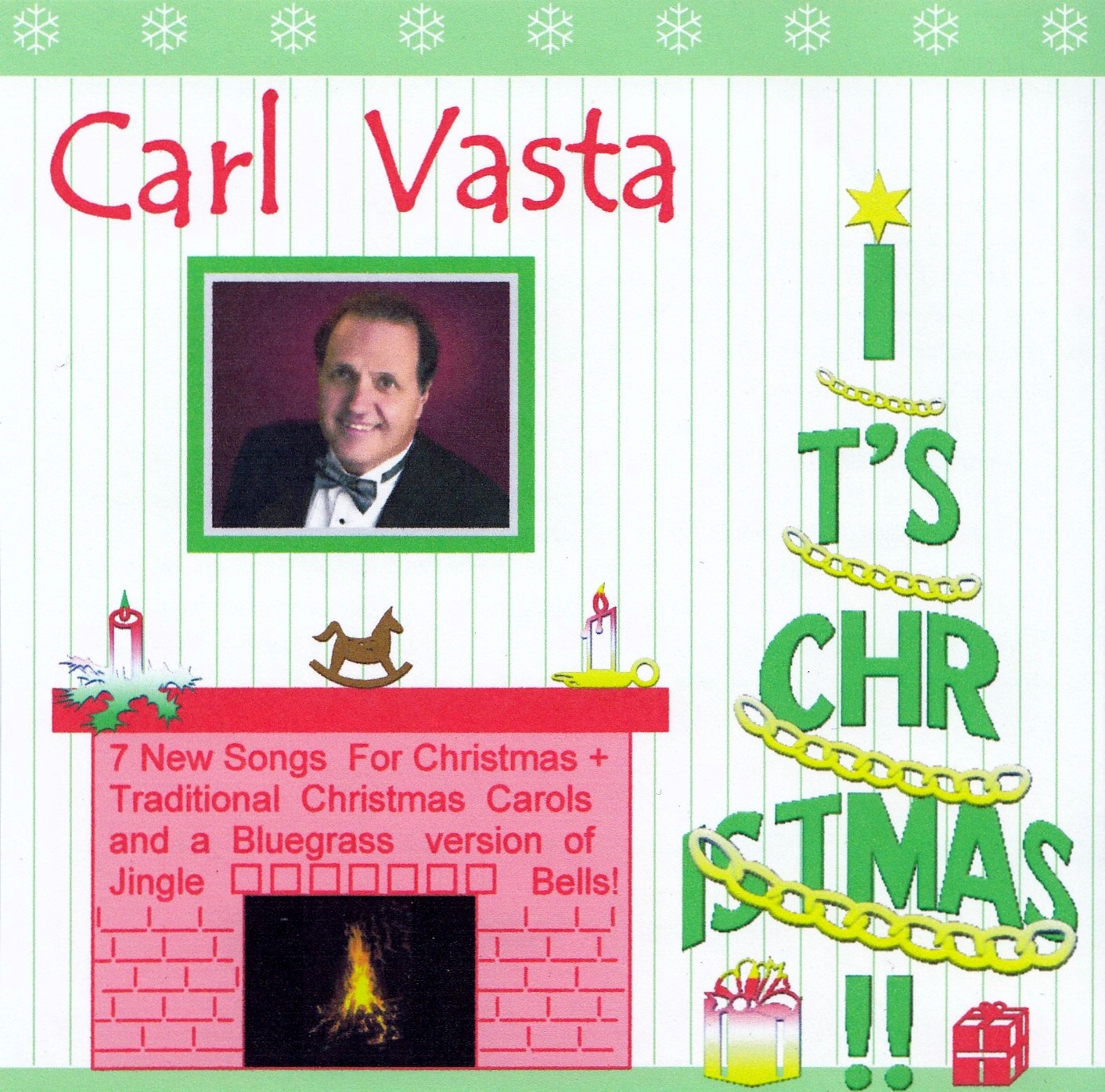 PLAY OR DOWNLOAD
The Whole 'IT'S CHRISTMAS'
MP3 and / or Video ( 10 songs )
FREE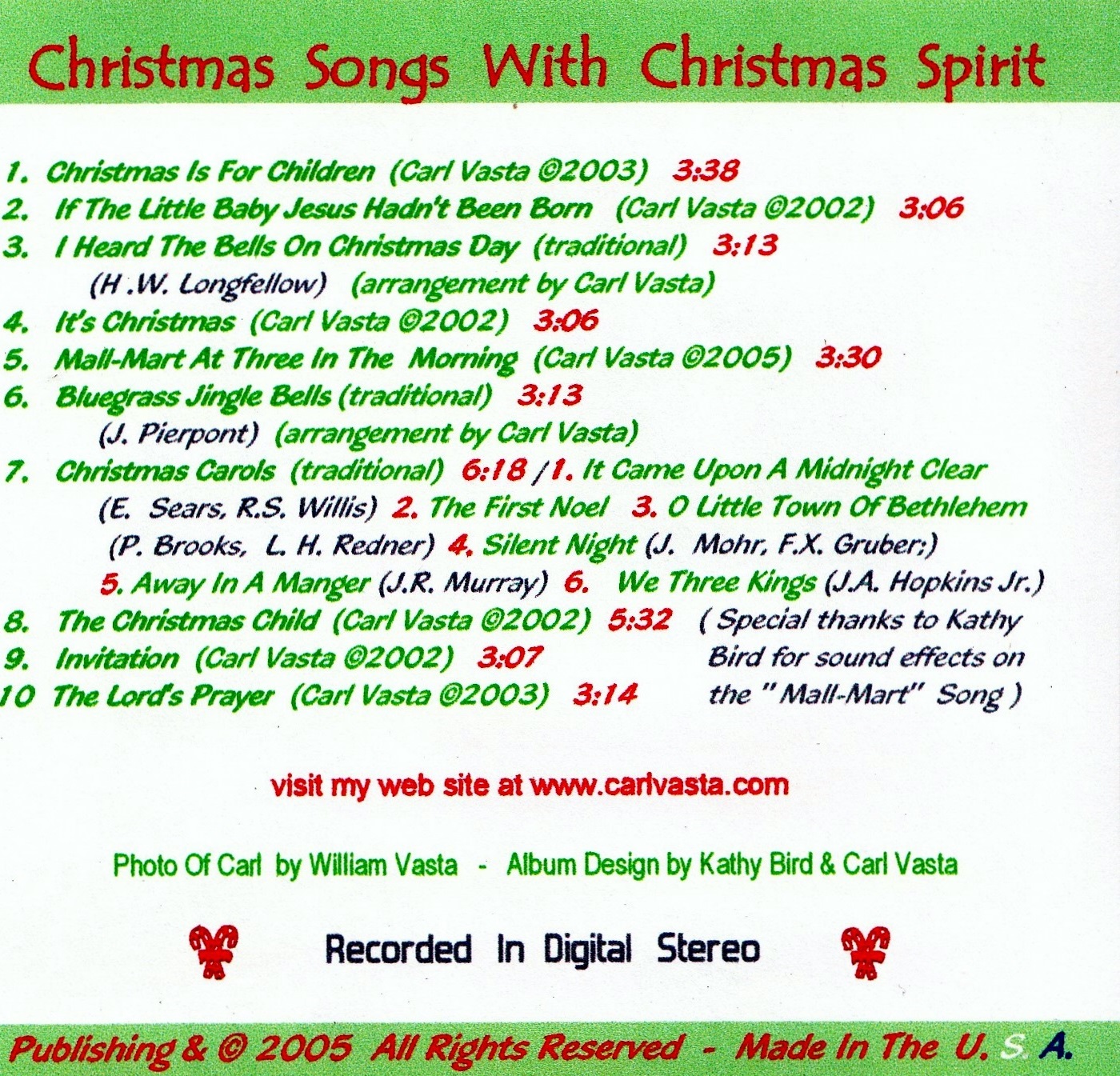 The Music Of Carl Vasta
Copyright 2004 - 2020, All rights reserved
email me at: carlvasta@outlook.com
( not receiving email from the carlvasta.com site! )
The inspiration and the author of
all the music we compose is the LORD GOD,
He just allows us put our name on it - crv